Best Wedding Photographer in Kolkata
Creative Wedding Photography & Cinematography
Our Wedding Specialties
Best Wedding Photographer in Kolkata
Wedding Photography & Videography have become one of our specialties over the years. Our artistic style of wedding photography and our strong understanding of the ceremonies and culture have allowed us to become the best Wedding Photographer in Kolkata for high-end Indian Weddings. Explore more info on our Wedding Photography and Indian Wedding Videography.
Me & my team has provided storytelling for hundreds of Weddings of various religions and regions. Having this specialized knowledge allows us to capture all of the beautiful moments of Weddings without missing any special moments.
I (Amit Kumar Das) have been telling stories in the mysterious photographic arts for well since 2010. I love to capture both a stills and motion, thus bringing an unerring sense of style and composition to all of my work. My visuals capture the imagination, challenge preconceptions, and merge a classical ethos with urban grit and 21st Century techno-savvy. Read more about me here.
Gallery
Lets explore what we have done so far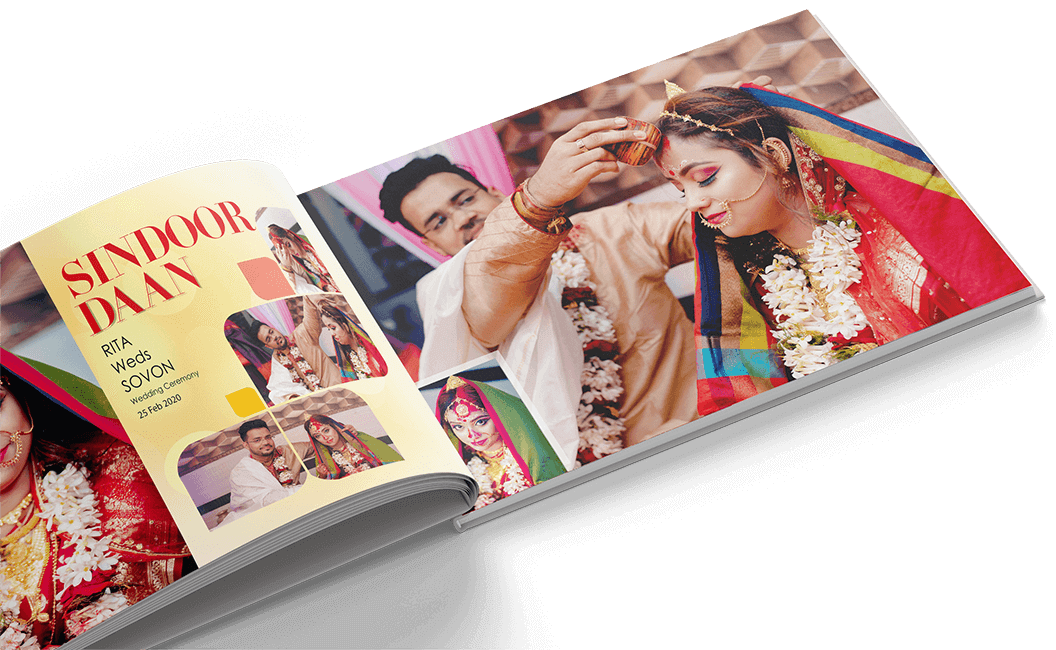 Photobooks / Albums
Quality Print on premium papers with
marvelous designs.
Presenting big bold and beautiful new books like never before. Photobooks are a great way to preserve your special day. Transform your best memories into timeless works of art that will stay with you for years to come.
Our Photobooks are printed using liquid electro inks on fine art papers from the worlds best paper manufacturers giving you superior colour tone and extended product life. Available in a wide selection of smooth or textured papers.
Photo Stories
Please take a look at the Photo Stories of Romantic Couples
All

Baby Shoot

Birthday

Engagement

Events

Pre Weddings

Rice Ceremony

Weddings
Our Blogs
Read & get knowledge from our latest Blogs & Articles
Reviews
What our clients say about us
Eeshita Chakraborty
Amit & Sneha were amazing. They are consummate, professional, imaginative, funny, & totally committed to delivering what we wanted. Loved his approach & were thrilled with our photos. Recommend him highly!!!
Facebook
Priyanka Surana Bardia
We had a great experience shooting with
AD photography. They were very courteous
and patient. Nice clicks. Keep doing
the great work!!
Facebook
Shinjini Ghosh Chowdhury Reddy
They make sure to give u
the best of the shots....
Facebook
Somnath Sarkar
Indeed an excellent way of personifying
any moments...through Ad Photography...
Well skilled and Innovative approach..
Facebook
Ankit Kalani
Amit is very cooperative and he is the best option if you are running short on time...great work Amit loved the clicks...ty!!!
Facebook
Dipak Gupta
Best in one word! they
work hard to give u the best
Facebook
Tania Das
I loved it from the core of my heart... They r friendly, very cooperative.. Team has a good Co ordination n a great bonding, for that reason they are successful to capture each
n every important moments with grace..
V loved Amit n Sneha a lot, they r like family..
Pictures are awesome..
Facebook
Sona Bose
A big thank you to Amit & his team for doing a tremendous job throughout my wedding.. U guys are terrific & actually know what people want & how u will deliver those according to their expectations.. Am very happy to have you on my marriage.. Keep continue to spread the magic of love through your work...
Facebook
Ranjabati Mukhopadhyay
It was an great experience for us. They captured all of our prestigious moments. Actually Amit da and Sneha di u are too good. When u posted my first pic on Facebook.. OMG!! U guys are terrific Yarr!! U know what a bride and groom wants. I want to say a big Woooow for your work and huge thanks for your polite behavior.
Facebook
Nilakshi Ghosh
I thank the whole team of AD Photography for the beautiful shots, vids ♥️. U all have done an excellent job & made my wedding a special for me. The smile u brought in so many faces is very precious. U have real eye of a photographer. Keep doing such good works.
Facebook
Suvojit Ghosh
Amit and Sneha, 5 ? to u guys.
No comment would fit in but marvellous job done, thanks a ton.
Keep up the good work.
Facebook
Swati Bagchi
Amit and Sneha you guys are just ameeeeeezing… Thank you for the photos and we really like them.. People who are planning there big day can plan with them.. Best quality with an affordable budget..
Facebook
Soumitra Chatterjee
Ad photography is just awesome.Nice click.Very friendly..Helpful.Please try once AD photography..They creates a memory.Makes our day memorable by clicking good pics..
Facebook
Keyya Das Chandra
An occasion is not only about rituals, guests, light and foods… its about memories…. and AD photography made this memories just wow….thanks Amit da & Sneha di for this…we are glad we had chosen your team…
Facebook